In this case study, I searched for the term "clinic yishun" to investigate who and what is showing on the Maps Pack and Google's Search Engine Results Page (SERP) and to have an idea how clinics in Yishun are conducting their internet presence.

According to Keywords Everywhere, a chrome plug-in I installed in my browser to gauge monthly search traffic, this term has an estimated monthly search of 2400.

We will ignore the single Ad at the top of the page. If you have an advertising budget, you can pay Google to have the privilege of showing your ads at the very top of the page.

This is like skipping the queue by buying an express ticket at Universal Studios.

Underneath the ad is a map and some listings. This is a very localised way in which Google is promoting search results – the Maps Pack, also known as the Local Pack or even the 3-pack.

Whenever your query has local intent, Google will show this section of search results featuring three top local businesses that might hopefully answer your query.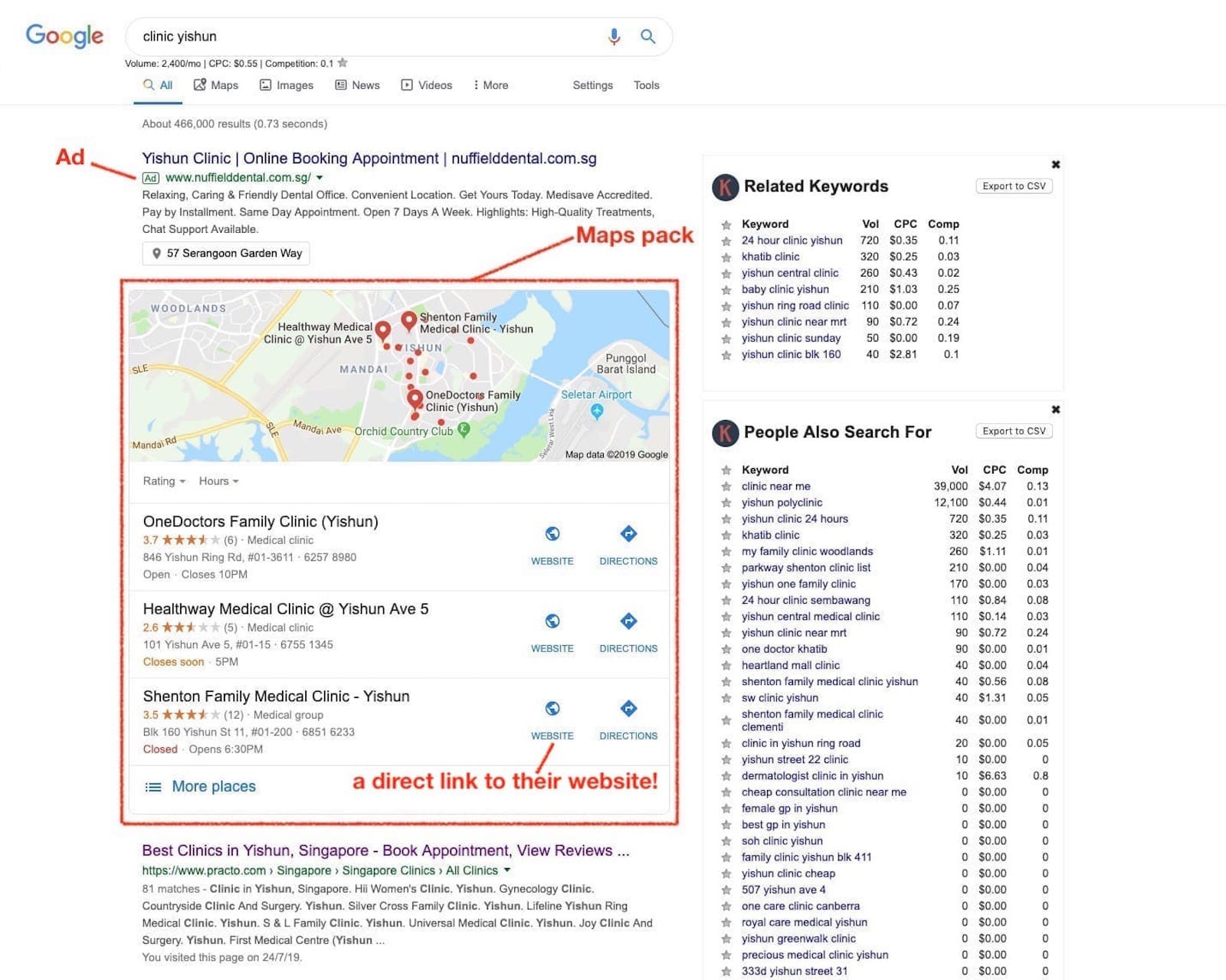 The Maps Pack appears in almost 30 per cent of all first page SERPs, making it the most frequently displayed SERP feature.

Business with a website can offer visitors a direct connection to their website from the Maps Pack. (see picture)

By clicking on the 'More places' at the bottom of Maps Pack, we see more local results as it expanded.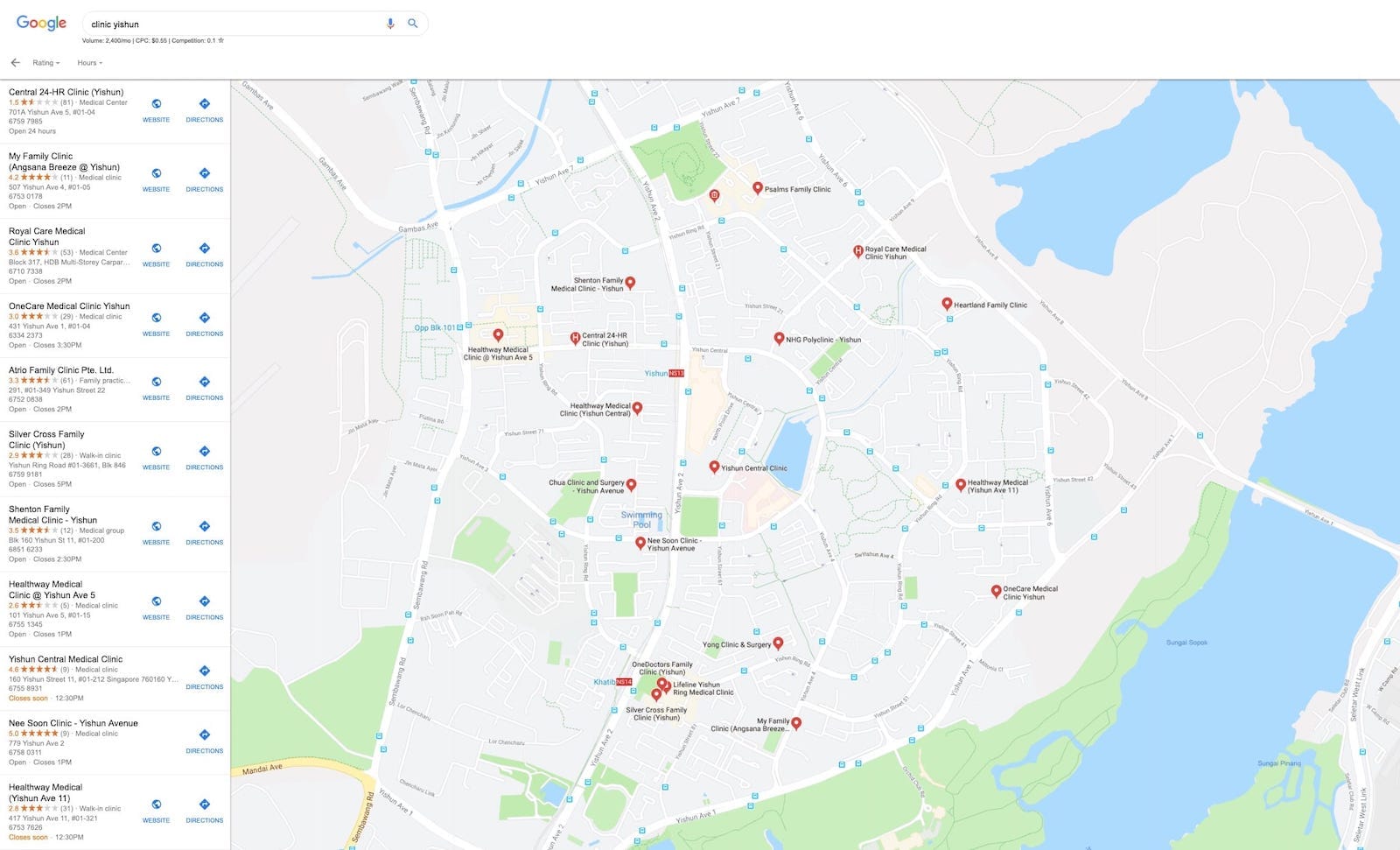 This is what I discovered:
Of the 200 results in this Maps Pack, there are 79 medical clinics listed. Others included TCMs, dental and vet clinics.
Of the 79 clinics listed, only 29 have a live website. A staggering 63.3% of clinics have no websites.
Almost all clinics with websites have claimed their Google My Business (GMB) listings. On the contrary, the reverse is also true – clinics without a website have not claimed their GMB listings.
This finding is astounding!

I will highlight 2 business opportunity here:

1. You are leaving money on the table without a website.

2. Ranking high in Maps Pack.
Websites To Generate More Revenue
At the beginning of the article, I mentioned the estimated monthly search of 2400 for the term "clinic yishun".

That means daily, about 80 people are looking for a clinic near them. They could be new residents or even people looking to find alternative clinic/doctors.

Can you imagine the revenue you can earn from just 1 person clicking on your website and checking out your clinic?

Calculate the opportunity cost of losing this client for a visit?

How about the opportunity cost for a year? Or even for their entire life!

This is what we called lifetime customer value (LCV), or lifetime value (LTV) in marketing terms.

What is the LCV of a customer for your clinic?

Would it be great to funnel a few new customers to your clinic each month?

Without a website providing good information, your customers will look elsewhere.

Websites work.

No matter what your business or profession, a well-optimised, mobile-optimised website can generate business, promote goodwill among customers and prospects, and deliver strong marketing messages.

I wisely started with a map. – J.R.R. Tolkien
Reviews in Maps Can Rank Or Tank Your Business
Getting feedback and reviews for your business has always been a must for business looking to finetune its process and find out what works.

Today its importance is even greater.

Negative reviews in Map Packs can adversely affect your business and accumulating them regularly is akin to stuffing yourself with fatty greasy grills daily.

Take a look at this listing.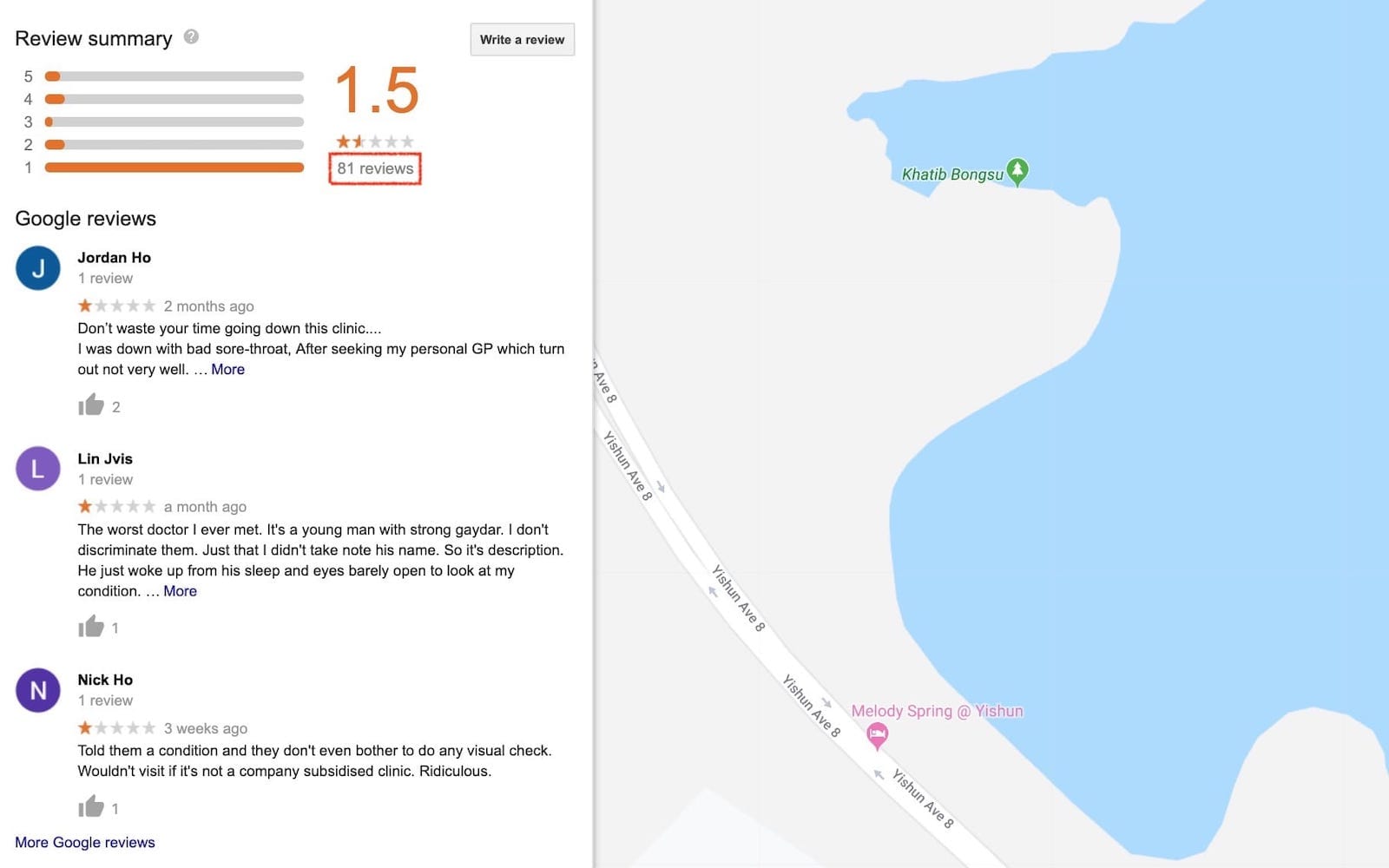 Do you think anyone with half a sane mind would like to patronise this clinic?

Anyone can leave a positive or an adverse feedback in the Maps Pack.

But not any business can reply to it unless you have claimed your listing!

In this day and age, it is essential for any business which wants to thrive to have a GMB business listing.

The immediate benefits are obvious when you claim your GMB:
Correct business NAP (business Name, Address, Phone)
Replying to positive and negative comments (reviews)
Accurate information like business category, opening hours, etc
Adding posts, a messaging feature, and a Q&A option.
Get A Website and Rank In Maps Pack
In conclusion, if you are thinking of increasing your bottom line and have more customers come through the door, you need to adopt a new approach in this era.

You would want to rank high on Google's local SERP and on top of that, in the Local 3-Pack. It is one of the most visible SERP features, and your business will appear high in the block if you play your cards right.

Your Maps Pack ranking depends on your website. If you want good search results, you need a solid internet presence.

We can help you build a fully SEO optimized, mobile optimised website and get you ranking in local search results on Google.

Start building and boosting your credibility online today and get more business!
I Need More Customers
Build my website & claim my GMB today